Give your home and landscape some personality, find the perfect gift, and pamper yourself with a little help from Cactus Mart's one-of-a-kind selection!
Beautify your yard with unique offerings available at Cactus Mart. From welded metal army ants to peacock sculptures that rock to a gentle breeze, Cactus Mart has the perfect addition for your garden.
On your way to visit family and friends? Be sure to pick up a gift from our boutique! Our gifts include anything from t-shirts, hats, candles, soaps, magnets, body fragrances, and more. There is something for everybody.
Cactus Mart is home to many unique pieces of artwork created by local artists including Snake Jagger. Our painted canvases, posters, and more will liven up any living space with exactly the look and feel you are going for.
Crystals, Gems & Minerals
We carry a fine selection of crystals, gems, and minerals mined locally or from exotic locations. Consider a selenite night light for your home, some amethyst to realign your chakras, or a bismuth crystal that is grown locally.
Cactus Mart carries a fine selection of jewelry for any occasion. Don't let your wrist go without a fine bracelet or how about treating yourself to a necklace.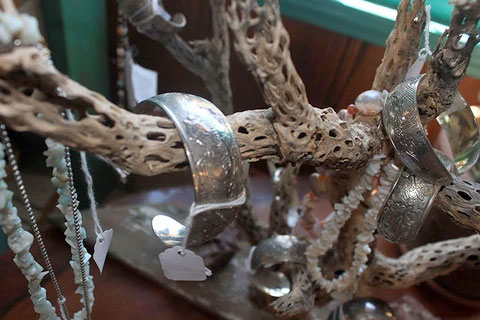 No house is complete without the wonderous illuminating effects that a candle can offer. We carry Joshua Tree Candle Company candles that carry fragrances inspired by the surrounding desert area.
Pottery is a perfect way to add a little liveliness to your patio, interior space, or anywhere the home is. We have pots in many different shapes, sizes and colors to suite any possible need you may desire.
Some of the best coffee on the planet can be found in Joshua Tree of all places. We carry several flavors including Mellow Ethiopian, Breakfast Bliss, The First Roast, and Espresso!
We carry the Mrs. Meyer's brand of cleaning supplies to help provide your home a clean environment using only natural ingredients. Comes in a variety of amazing fragrances.