We are currently not booking due to COVID.
First of all, congratulations! What's not to love about love? Cactus Mart is here to help plan for your special day. Availability can be limited during the spring, winter, and fall seasons. We have some availability for Summer of 2019, and we are booking very fast for Fall 2019 dates! So be sure to contact us in advance to reserve any custom work. We want to have your pieces ready in time for your very important day. We can be reached at weddings@cactusmart.com. We're anxious to help make something magical for you!
Make your desert wedding special with a natural living arrangement that is unique to your personality. Express your style with a bouquet made of succulents, cacti, and floral delights designed any way you like. Be bold, classic vintage, desert modern chic, simple, or a tropical theme. Carry the embodiment of love as your arrangement can be planted to live on beyond your special day.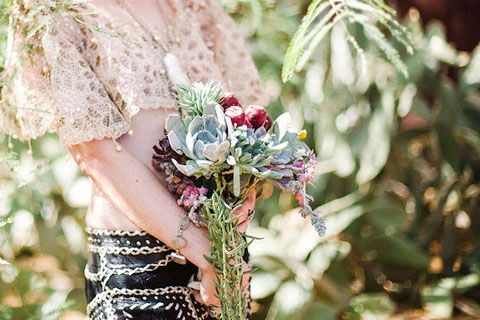 Adorn a living arrangement of succulents, cacti, flowers, and more with custom options. Boutonnieres are essential for any wedding. Consider a palette of colors inspired by a particular desert sunset or the natural landscape! Hair pieces are also destined to make heads turn. Get your experience the way you want at Cactus Mart.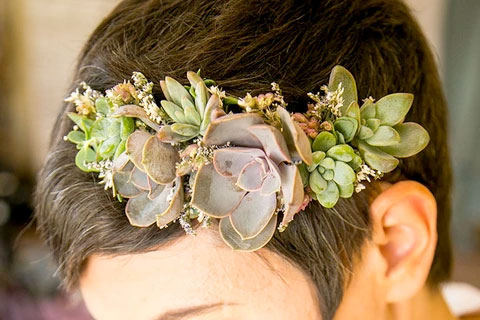 Don't settle for any centerpiece or wedding arch. Cactus Mart customizes table centerpieces and floral arrangements for almost any imaginable event. Succulents and florals draped from chairs and an archway that will leave others dreaming of their own special day. Let Cactus Mart put together something amazing for you.
Our pricing is based on the amount of items ordered, complexity and uniqueness of the order, and the specialty of the florals and vessels. Your pieces are custom designed and will vary based on our pricing factors, but here are some starting prices for your budget:
Bridal Bouquets
Start at $195-$225 for à la carte
Bridesmaid Bouquets
Start at $105 for à la carte
Boutonnieres
Start at $28 for à la carte
Corsages (wrist or pin-on)
Start at $36 for à la carte
I'm curious about your wedding and event planning and want to know more or get an estimate. What is the next step?
Send Cactus Mart an email at weddings@cactusmart.com and we'll get to know you and what you envision for your special day. After obtaining the necessary details from our conversations, we'll prepare an estimate for you.
What's the best way to send Cactus Mart my ideas, what I like, my wedding "vibe", or theme/colors?
Most brides-to-be use Pinterest to create an inspiration board. You can email Cactus Mart your inspiration board. Your preferred method is pretty much up to you.
Can Cactus Mart make my bouquet?
Yes, we specialize in bouquets!
Does Cactus Mart craft and arrange more than bouquets?
Yes, we do anything from bouquets, boutonnieres, hair pieces, corsages, arches and arbors, reception centerpieces, photo walls, welcome tables, cake toppers, and more! We're creative and love challenges so if you have an idea you don't see listed, just contact Cactus Mart and we'll see what we can conjure up!
Can I rent my arrangements?
Cactus Mart offers rentals for a select number of our items including, but not limited to, large cacti in pots, potted succulent and cactus centerpiece arrangements, and our round arch.
How do I book my wedding date?
After we've worked out the details and agree upon an estimate, we'll have you sign some paperwork and ask for a 50% non-refundable deposit. Once we verify the receipt of these items, we'll book you for your date.
I really love how desert wildflowers look. Can I get those in my bouquet?
We love the wildflowers that grow in the desert surrounding the Cactus Mart store. Unfortunately, many of them are fragile or wilt easily after picked. Additionally, the wildflowers bloom at different times of the year. Many depend on a sudden steady rain event, which is unreliable in the desert. Guaranteeing that these beautiful wildflowers will be in bloom and not wilted for your special day is likely not feasible. We do offer beautiful succulent bouquets that utilize unique and stunning flowers and foliage in our arrangements which everyone adores!